the last couple of weeks have been a little crazy with a show, a plane ride, etc., so this fifth installment of APPLES TO APPLES features two weeks' worth of new apple varieties from our friends at devoto. that's eight different apples, the quality of which ran the gamut.
---
Cinnamon Spice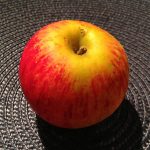 this sweet apple does indeed have a hint of spice to it. it's a subtle flavor—not super intense, but quite tasty. the flesh is firm and dense. it's not especially juicy, but it's not dry, either.
in all, an interesting variety worth trying, but not one i'd overload on.
the verdict: TRY THESE WITH YOUR FACE.

---
Empire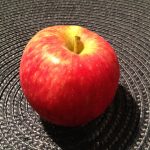 last year, i wasn't always sure which apples i liked because i wasn't always sure which apples were which. they looked similar enough that, without a cheat sheet, i couldn't tell them apart. this year, i've been careful to keep the varieties separated and labeled. this has paid off for the empire, which went from "one of the red apples" to one of my favorites of the past couple weeks.
the empire has just enough flavor—not bland but not overpowering—with a nice balance of tart and sweet. it's crunchy and crispy. it's just a damned solid apple, and one that i'll be sure to buy several of whenever i see it.
the verdict: PUT THESE IN YOUR FACE.

---
Ida Red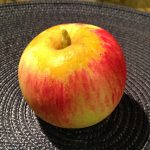 this one is very tart. it's supposed to be big on crunch, but mine was, while crisp, more creamy than crunchy. i can see why it is favored for cooking. a decent apple, but not my favorite.
mario would hate it.
the verdict: PUT ONE OR TWO IN YOUR FACE.

---
Jonathan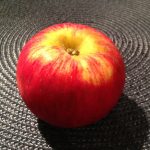 this is a decent apple. one of its best attributes is that it's very juicy. good sweet flavor. not mealy, but not crunchy; another creamy apple. in other words, of a middling texture.
for me, if it's going to err on the sweet side of the sweet-tart spectrum, an apple needs to have a really good texture. the jonathan doesn't.
the verdict: TAKE IT OR LEAVE IT.

---
Kidd's Orange Red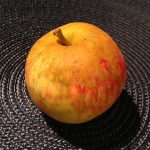 the kidd's orange red is a cross between a red delicious and a pippin. that should have been enough warning for me, but i have a soft spot for pippins, and i've seen good apples with a delicious on one side of the family tree.
not the kidd's red orange, though. it's light, not dense at all. its flavor is purely sweet, without any tartness or complexity to speak of. it's also reasonably juicy, which is a plus.but the texture? blech. it's on the wrong side of creamy, decidedly taking after its red delicious parentage.
the verdict: KEEP THESE AWAY FROM YOUR FACE.

---
Mutsu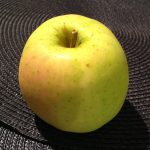 ok. the mutsu is, straight up, probably my single favorite apple of all time. wonderful crunch and crispiness, a firm skin, intense flavor that blends sweet and tart in just the right proportions. i can literally eat pounds of these every week.
the verdict: PUT ONE OR TWO IN YOUR FACE.

---
Red Golden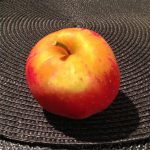 i.
hate.
this.
apple.
hate it. worst apple of the season so far. mealy. overly sweet. the demon offspring of two horrible apples.
hate it.
the verdict: KEEP THESE AWAY FROM YOUR FACE.

---
Stayman Winesap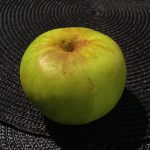 this nice little apple is firm, juicy, and tart. its flavor is not very intense; it could use a little more punch. still, not bad.
the verdict: PUT ONE OR TWO IN YOUR FACE.