this is a light week here at APPLES TO APPLES, with only three new apples from devoto gardens. we've got hawaiians, ozark golds, and jonagolds for you—but if i were you, i'd just keep buying (and eating) mutsus as long as they're around.
---
Hawaiian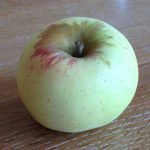 now, if you know anything about me and my family, you know i have a soft spot for hawai'i and most things hawaiian. my dad grew up in honolulu, and we still have a lot of ohana out there. we try to visit as much as we can.
that being said, i'm not all that crazy about hawaiian apples. for one thing, they're not actually hawaiian. they were developed in sebastopol. their name comes from a tropical tinge to their flavor.
for another thing, they're pretty much purely sweet. as you know by now, this is not my favorite kind of apple. and the hawaiian's flavor isn't very strong; that is to say, there's not much of it. but this is quite a crisp and juicy apple—points in its favor. and the flavor isn't bad, it's just a little boring. this would be a great apple for children, or people like mario.
the verdict: PUT ONE OR TWO IN YOUR FACE.

---
Ozark Gold
nope. no sir. didn't like it.
the ozark gold is not wholly dissimilar to the hawaiian. both are crisp and juicy. both are closer to subtle (or bland) than they are to intensely flavorful. but where the hawaiian can ride its texture and juiciness to overcome its flavor weakness, the ozark gold cannot. why? because unlike the hawaiian's, the ozark gold's flavor is just bad. it's not overly sweet, which is where most apples with bad flavors land. the ozark's flavor is hard to describe, but i'm going to go with sour. not tart. sour.
i simply found this apple unpleasant.
the verdict: KEEP THESE AWAY FROM YOUR FACE.

---
Jonagold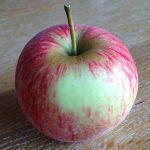 i bought a lot of mutsus this week. that was my primary eating apple, and i got only enough of the others to taste and review. the apple i got the fewest of? jonagold. neither the golden delicious nor the jonathan is high on my list of apples, and this sounded like a cross between them. (subsequent reading would prove my guess right.)
but, to my surprise, the jonagold was my favorite apple this week (non-mutsu division). it is crisper than i remember the jonathan, and had by far the most intense and complex flavor of the three. now, don't make too much of that. it can't touch a mutsu or ashmead's kernel. but in a weak week, the jonagold stood out as a crispy, flavorful, juicy apple that mixed sweet and tart well. it definitely proved me the fool for getting only two.
the verdict: PUT A FEW OF THESE IN YOUR FACE.