welcome to week three of APPLES TO APPLES. in stark contrast to last week, devoto gardens had no new varieties for me this week. in fact, some apples, like the pink pearls and the nonesuches, were gone after just one week. with no new apples, imm going to briefly revisit two of the apples from last week to see if they improved from the first week of their seasons to the second.
---
Burgundy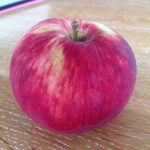 a week of seasoning did nothing to put the burgundy in my good graces. it remains unremarkable. it still had too much of the red delicious in it, but this week i noticed it more in flavor than in texture. too sweet, too little…personality.
sad to say, but i am just not a fan of this apple.
the verdict: KEEP THESE AWAY FROM YOUR FACE.

---
Pink Blush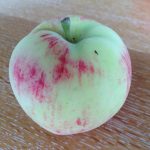 last week, the pink blush was decidedly unimpressive and ended up at the bottom of my list. this week, it outperformed the burgundy. by a lot. to wit: i finished the pink blush but ate only two thirds of the burgundy. if you like sweet apples, i would give the pink blush a try. it's crispy (more so than i thought last week) and juicy, with a subtle, sweet flavor. it doesn't have the tartness and complexity that i prefer, but it's not all red deliciousy. and it's not overwhelming at all. the crispness and juiciness make a much stronger impression than the flavor. lots and lots of juice. decent apple.
the verdict: PUT A FEW INTO YOUR FACE.

---
Sad News
Here is some sad apple news from this week.